Test Day Information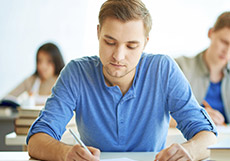 Come to the test room by the time indicated in your confirmation letter.

The test will take most of the day, from 9am until possibly 4pm in the afternoon.
---
You Must Bring
Your valid, original passport - for identification purposes (certified copies are not accepted).
Your IELTS test confirmation letter - which you will receive in person when you complete your booking before the test, or by email for interstate/postal applications.
Pencils, sharpener and an eraser. 
Do Not Bring
A mobile device to the Test Centre. You cannot take it into the test room. If you do bring a mobile device to the test room, you must leave it with the invigilators, but we cannot take responsibility for your device.
Expensive bags or other valuable items. All bags must be left in our locked bag room during the test, but we do not take responsibility for your possessions.
---
Available Courses
Learn More

FREE Preparation!

Book your IELTS test at Macquarie University IELTS Test Centre and receive 30 days free online preparation.