Our location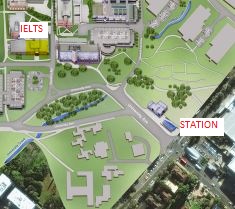 (from 21/11/2018) Level 2, 10 Macquarie Walk,
Macquarie University NSW 2109.
Our office at Level 2, 10 Macquarie Walk is very close to Macquarie University train station and Macquarie Shopping Centre. NOTE: On test day, go to Building 11 Wally's Walk for your test. See the Campus map link above.
Download Directions
---
Travelling to the IELTS Test Centre
By Car

M2 motorway: from the Northwest, exit Christie Road. Macquarie University is located in North Ryde opposite the Macquarie Shopping Centre, with entries from Epping/Balaclava Rd, Corner of Herring and Waterloo Rd and Talavera Road from the city.

By Bus

Buses travel through the university on Balaclava Road, Macquarie Drive and University Avenue. Some routes are only accessible from outside the campus at the bus stop located near the entrances to the Macquarie University Train Station and Macquarie Centre (located
on Herring Rd).

By Train

Macquarie University has a train station on campus, but from 30 September 2018, trains into and out of Macquarie University, Macquarie Park and North Ryde stations will be replaced by Station Link bus services. Please see Station link update
---
Parking
Parking at Macquarie University:
Hourly and daily casual parking tickets are available, but only for use in the X4, X3, W4 and N3 carparks.
Parking Permits can be purchased from the Cashier's Office in the Student Centre, located in the Lincoln Building (C8A). To find about more about Parking Permits, go to the Macquarie University Property website.
Parking at Macquarie Shopping Centre:
Macquarie Shopping Centre has more than 2,000 parking spaces and 3 hours free parking. The shopping centre is located very close to the IELTS office.
www.macquariecentre.com.au/Centre/Location-Parking
---
Macquarie University
IELTS Test Centre
Level 2, 10 Macquarie Walk
Macquarie University NSW 2109
(02) 9850 6337
(02) 9850 1875
ielts@mq.edu.au
Opening Hours
Monday to Friday
9:15am - 4:30pm
Test Day (Sat):Office closed
Campus map
---
Available Courses
Learn More

FREE Preparation!

Book your IELTS test at Macquarie University IELTS Test Centre and receive 30 days free online preparation.